e-Shikshana, VTU e-Learning Platform
Multi-modal, multi-platform, collaborative e-Learning solution which allows a course expert to teach or interact with a large number of students transcending geographies on a real-time basis through live audio video streaming and synchronized content sharing.
e-Shikshana Programme

Why e-Shikshana?

Features of e-Shikshana
e-Shikshana is a versatile e-learning platform which enables to setup Online Classrooms, Meetings and Trainings with ease.
Online Virtual Classrooms
Online virtual classrooms can be easily set up with e-Shikshana leveraging its multi-screen display capability. The multi screen display capability of e-Shikshana provides a near life classroom experience where the course experts and the content being shared can be seen simultaneously, legibly on large screens.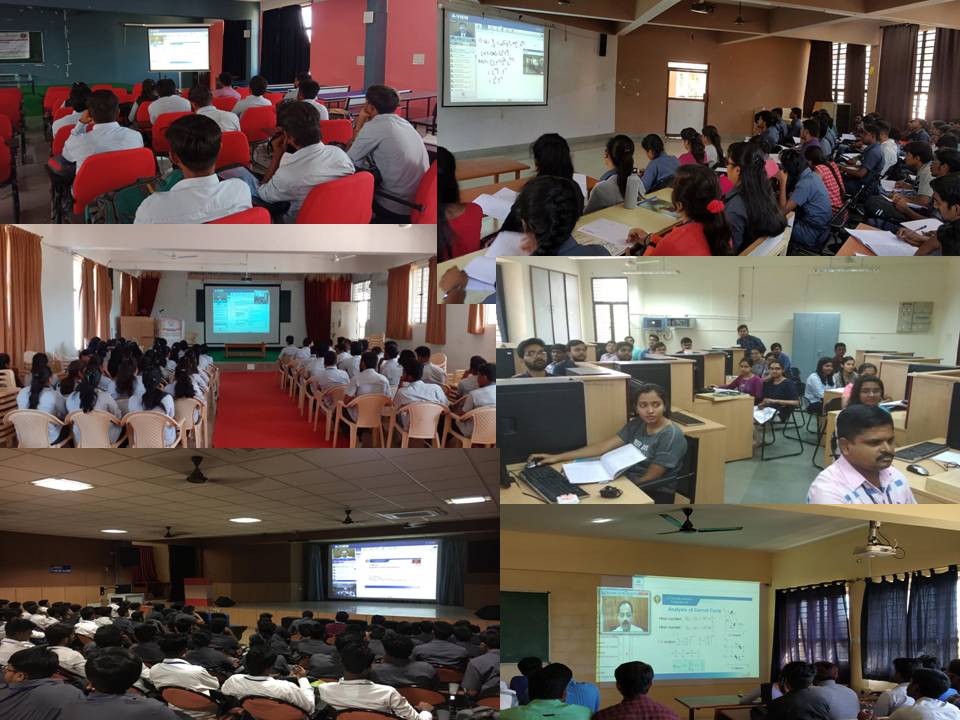 e-Shikshana facilitates live workshops

e-Shikshana can be used as an effective tool to conduct online workshops by connecting experts and participants from around the various affiliated collegs through its live video and audio streaming capabilities. This clubbed with its multi-modal and multi-display capabilities can deliver an unforgettable experience in conducting online workshops.
Meeting Tool
e-Shikshana can also be used to interact with up to 8 simultaneous affiliated colleges at a time. This capability of e-Shikshana lets it pitch itself as a competitive online meeting and social collaboration tool.
Seamless live video and audio streaming (Meeting tool)
The video conference feature of e-Shikshana allows the affliated colleges to have a seamless live video and audio streaming experience even in situations where the bandwidth is not very high. With its multi-bit-rate streaming options the software adapts itself to the best settings suitable for the bandwidth available. This means that course experts can reach out virtually to hundreds of classrooms and thousands of students spread across geographies effortlessly.
e-Shikshana supports interactions with multiple affliated colleges simultaneously which enables its students/participants to use e-Shikshana as an effective meeting tool to organize meetings spread across the globe.
e-Shikshana Meeting, a conference center where meeting has no walls. e-Shikshana Meeting is used to conduct live meetings, presentations or training from the comfort of the desk. Affliated colleges can also participate in multiple meetings at the same time.
Content collaboration (Documents, Presentations, Video, 2D & 3D models, Whiteboards)
e-Shikshana enables collaboration on content through multiple options. The affliated colleges can collaborate on documents and presentations that are currently being discussed in classroom and can highlight, underline and add other annotations for the entire class to see, if permitted by the course experts.
e-Shikshana also features a white board option where the course experts can share with the learner free hand content as he/ she does in a real life classroom using a blackboard.

e-Shikshana also allows collaboration on interactive 2D animations and 3D models, unseen anywhere else so far, to provide a near life virtual experience to the learner in understanding complicated concepts with ease.
Live Evaluation and Feedback
The quiz and poll options of e-Shikshana helps the course experts to conduct live evaluation of the class that is being taught. The responses are consolidated and presented to the course experts neatly by e-Shikshana platform.
e-Shikshana also lets the course experts collect live feed back on the session using the live interaction through hand-raise option.
Video record, playback and edit functions
e-Shikshana records the session conducted through it and classifies and stores it in the library for later reference. The software also lets the user edit the videos recorded through a simple video editing interface.
e-Shikshana Features and Enhancements
Client Side MP4 Recording

Record all the events and media content generated during a e-Shikshana session which can be played back without logging into e-Shikshana again. If Client MP4 recording is enabled, e-Shikshana will save all session events (Video, Slides, Chat, Audio, Whiteboard , etc ) as video recording in the user's computer. The recording can be saved in video qualities compatible with various devices (Mobile, Tablet, Desktop, TV ) in mp4 format.

Self Recording

Video lecture creation mode in e-Shikshana was designed specifically to meet the distance learning demands. The course experts can create a recording using the e-Shikshana features such as Video, Document Sharing, Whiteboard, etc. The recording can be saved in video qualities compatible with various devices (Mobile, Tablet, Desktop, TV ) in mp4 format.

Echo testing

Any user can use this feature to set his audio-video parameters in such a way that it does not cause echo during a live session. This test can be performed either or during a live session or before a session starts.

Document sharing

Presenter can upload multiple documents at the same time. Also they can see the status of document upload (Not Started, Processing, Failed & Success) by clicking on the document upload status button.

Improved User Interface

UI changes upon requests from users which includes, auto hiding of top panel upon class entry, different layouts for regular and self recording sessions, changes in whiteboard UI , chat and question panels , etc.

FOSS (Free open source software )

e-Shikshana is now completely open for any affliated colleges to develop and deploy. Any affliated colleges can setup their own free local e-Shikshana deployment using Red5 Media server.

Multicast Support

e-Shikshana is now supported in satellite network. e-Shikshana can be used as an simple and reliable solution in areas where internet connectivity is less.
?